🖤 COVER REVEAL 🖤
Check out this AMAZING cover for the dark romance anthology!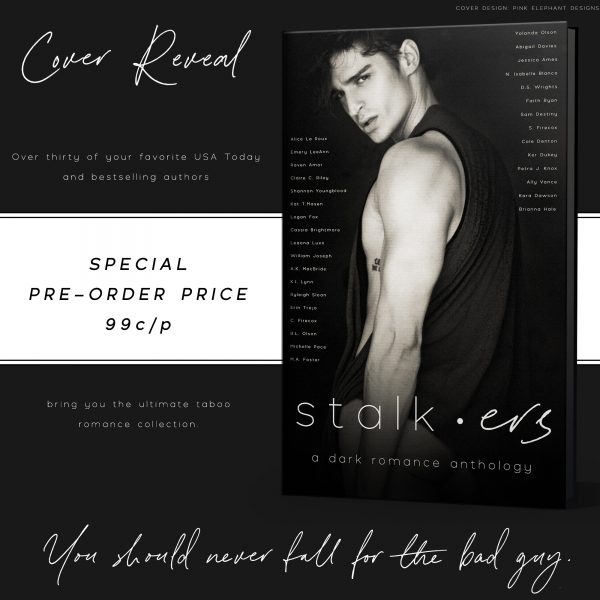 Pre-Order now for the special price of 99c/p!
🖤 STALKERS: A DARK ROMANCE ANTHOLOGY 🖤
You should never fall for the bad guy…
Over thirty of your favorite USA Today and bestselling authors have come together to create an epic collection of forbidden, dark romance stories.
Get lost in this unputdownable mixture of short stories. From heroes to bad guys, there's something for everyone.
stalk·er
A person who stalks : a person who pursues someone obsessively.
Stalkers is a taboo romance collection jam-packed with captivating stories.
🖤 LOOK AT THIS AWESOME LINEUP! 🖤
Abigail Davies · Yolanda Olson · Ally Vance · Jessica Ames · N. Isabelle Blanco · D.S. Wrights · Faith Ryan · Sam Destiny · S. Firecox · Cole Denton · Ker Dukey · Petra J. Knox · Kara Dawson · Brianna Hale · Alice La Roux · Emery LeeAnn · Raven Amor · Claire C. Riley · Shannon Youngblood · Kat T.Masen · Logan Fox · Cassia Brightmore · Leaona Luxx · William Joseph · A.K. MacBride · K.I. Lynn · Ryleigh Sloan · Erin Trejo · C. Firecox · B.L. Olson · Michelle Pace · M.A. Foster
#StalkersAnthology #ComingSoon #Preorder #CoverReveal #DarkRomanceAnthology #StalkerRomance #StalkersADarkRomanceAnthology #ForbiddenBoxsets