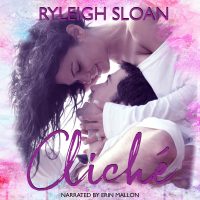 WHOOP WHOOP!!! Cliché, narrated by Erin Mallon, is now LIVE on Audible!! Believe me when I say you guys want to hear this book!!
Here's some great news!!! If you're not yet an audible member, you can get Cliché for FREE with a free 30-day trial by clicking the links below:
Click here if you're a US  audio listener.
Click here if you're an audio listener in the UK.
Click here if you're an audio listener in France.
Click here if you're an audio listener in Germany.
If you already own the Kindle edition, you can add the audiobook though Whispersync for only $7.47 for US customers and £3.47 for UK customers. Visit Amazon to take advantage of Whispersync. (And here's a tip! The Kindle edition and the audiobook with the Whispersync discount are cheaper together than the audiobook alone! So if you don't have the Kindle edition yet and want the audiobook, consider getting the Kindle edition first and save yourself some money! Cliche will be FREE this weekend, from the 7th through the 10th, so that's a perfect opportunity!)
To add Cliche to your TBR, click the link below:
http://www.goodreads.com/book/show/42980915-clich
BLURB:
I thought I had it all – the perfect life, with the perfect arrangement, with the perfect guy.
To the world, Kevin Peyton is the heartthrob Oscar nominee. To me, he's my best friend, with some sexy benefits.
But then I got a taste of his world. A world where being mobbed by fans, violated by intruders, and stripped of all privacy is the norm. I never realized how brutal being in the spotlight would be.
I didn't fit into his world. I didn't fit into his plans. I only wish I'd discovered that before falling in love with him and changing the game plan.
Sometimes changing the game plan changes more than the game. Sometimes it changes your Everything.